This is our major fundraising project and has been held annually for over 15 years. The project normally runs from March to April (sometimes May depending on the timing of the local school holidays and public holidays).
It involves the donations of Books, Jigsaws, CD's, Vinyl Records and DVD's by members of the Christchurch Community,
Our members, partners and friends of rotary will then collect, sort and pack ready for the sale event which is either 3 or 4 days in duration.
Over the six weeks prior, over 40,000 fliers and road signs will have been distributed to advertise not only the sale, but also the donation of goods.
On the days immediately prior, it's a real pressure cooker to get the venue set up with the required tables, and to roll in all the books and other items in time for the opening.
Opening day is busy, busy, busy with queues forming before the doors have opened. If you have been one of those people waiting in the past  – we thank you for your patience.
During the event we continue to restock the tables usually overnight or early morning for the next day's sale.
At the conclusion of the sale, its a big effort to remove the unsold items to storage, take down the tables and return the venue to the way it was.  This is why sometimes we have to close the sale at the advertised time to meet our venue commitments.
And then we start the exciting challenge of planning a new project.
BOOKarama 2023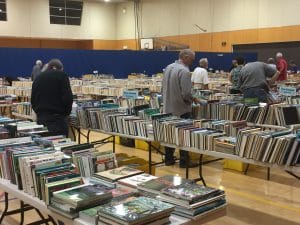 Rotary Club of Bishopdale Burnside's BOOKarama 2023 was held in April.
Bookarama Success continues for Bishopdale-Burnside Rotary Club
By Lucy Scannell
For the Bishopdale-Burnside Rotary club, their 13th annual Bookarama proved yet again to be a huge success. But, the club aren't the ones who benefit from the money raised.
From the CTV Series showcasing Rotary in Canterbury – this segment highlights Bookarama which at the time was lead by former member Roger Holmes.