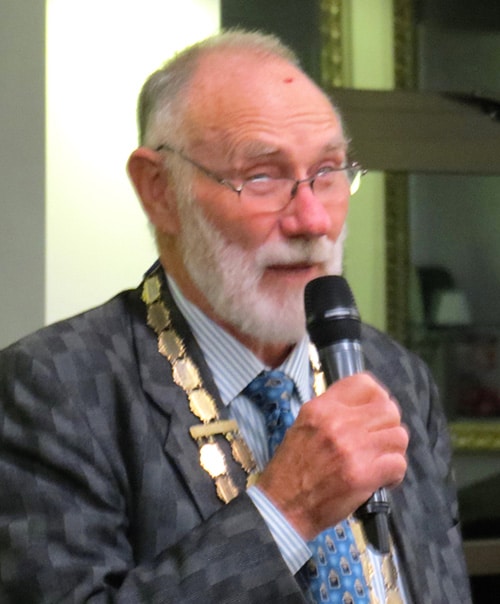 Past Presidents
With the Club having been in existence for more than 40 years a number of members have served in the role as President
Rod Finch President 2022-23
Married to Lou
In 1956 as a 10-year-old I accompanied my parents and 5 siblings onto a dairy farm in Hari Hari in South Westland and lived there for 10 years.
My involvement in community activities was influenced by my parents who served the Hari Hari community as leaders of RSA, Domain Board and Women's Institute.
My first involvement in community activity started when I was 16 when I became a founding member of the Hari Hari  Fire Brigade but couldn't be deemed a fire-fighter, as I was under age and was deemed a 'runner'.
The second fire I attended was that of my own Austin Mini Minor Countryman. The fire was out by the time the Brigade caught up with the burning vehicle –the fire engine being a clapped out 'monkey face' Chev, 4×4, donated by the NZ Forestry Services.
In 1967, I shifted to Hokitika and resided as a fireman on station for 2 years.
In 1970, I moved to Ashburton and was quickly inducted into the ranks of the Ashburton Fire Brigade who were respected nationally due to their frequently taking out the NZ Fire Service championship honours.
Being in the Ashburton A team exposed me to experiences, which have stayed with me for life, the horrors of fire and motor vehicle deaths.
In August 1973, I moved to Fiji which introduced me to real poverty.
I spent my first week residing in what we would say today, a 1 Star hotel, Hotel Suva.
My first morning whilst waiting for a pick up at 6.30am shocked me and influenced me in a way that probably channelled be down the 'wanting to help pathway'.
A young, lightly clad under nourished Indian mum was sitting on a sack under the entrance veranda of the Hotel, with a child of about 2 years old.
She lifted her hand up and said 'money please' the whites of her eyes were as big as golf balls.
The only money I had was NZ small change, as all valuables were held in the Hotel safe.
As I handed her the change, a typical early morning tropical shower let loose.
Quite a volume of water was cascading down the road side curbing.
Then the 2 year old joined 2 drinking straws together and proceeded to suck the water from the road side guttering.
I witnessed this for 3 consecutive mornings; however I was advised not to give the mother of the child money. I did give the mum a 'long loaf' of bread and a bottle of milk for the 3 days she was there.
Witnessing this level of poverty had a profound influence on me and opened my eyes to the vast inequities within our society. I sort of made a mental commitment that at some stage I would try and balance the inequities within society.
In 1974 whilst sharing a beer with a neighbour I shared my Suva Hotel experience with him. He told me he got involved with Rotary for the very same reason I wanted to, 'change the world'.
I had never heard what Rotary does, all I knew about Rotary was from my time living in Hokitika – from what I knew it was an all-male, preferably grey haired do gooder organisation who were pretty secretive about what they done.
What's changed in the general public's opinion of Rotary?
I was inducted into the Suva North Rotary Club in 1974 and remained a member until the rules of meeting attendance and my work commitment clashed, resigning in 1982.
During my term as a Rotarian in Fiji, I 'made up' at all the clubs. 'Make ups' were credited to your attendance. You had to achieve a 70% attendance to fulfil your obligation to remain a Rotarian. 'Make ups' gave me a very broad exposer of the inequities within our society, which Rotary was trying to correct. "Make ups' also allowed me to interact with likeminded persons and learn from their experiences, just how Rotary can change the lives of people, communities, cities and the world in general, Rotary has initiated many global programs for the betterment of mankind, i.e. Polio eradication, the Heifer Programme, microfinance, NZ Crippled Children  and many more.
My reintroduction in Rotary via the Bishopdale Burnside Rotary Club by the late Ian Murray has allowed me to contribute toward making the world a better place.
The pinnacle of my involvement with Rotary is going to be the taking on the role of President of the Bishopdale Burnside Rotary Club for 2022/23 Rotary year, which will mean I will have contributed toward my 'wanting to change the world' for 34 years, as a Rotarian.
I have served on most committees within the Bishopdale Burnside Rotary Club and  have served on the District 9970 International committee for 10 years, 6 of these years as District Chairperson.  I was the District 9970 representative as a Director of Rotary New Zealand World Community Service (RNZWCS) for 6 years and still retain an input as an associate of RNZWCS.
In 2006 I met a Mrs Faye Cran a visiting Rotarian from Tanzania . In 2008 I visited Tanzania as a Rotary Volunteer to provide technical advice as a Dairy Technologist to a venture Faye Cran had set up with local Rotary Club assistance.  This project was supported by RNZWCS and received NZ Foreign Aid funds and contributions from NZ Rotary Clubs whereby women were provided with an in calf heifer, along the lines of the Rotary initiated Heifer Programme . The milk from the cow would provide much needed nourishment to families that were being decimated at the time by Aids. Milk surplus to family use was sold to the processing unit and manufactured into drinking yoghurt. This project was the catalyst to move families out of poverty and is still functioning to this day. For me, this project was a 'blue print' of where the Fiji dairy industry was at when I went to Fiji in 1973 and resulted in a second project calling for my input.
My involvement in assisting small scale (2 cow to 20 cow) farmers move out of poverty has been ongoing, whereby I have visited Tanzania as a Rotary volunteer Dairy Technologist advisor and was engaged by ChildFund as an advisor for the setting up of 4 milk collection centres in Kenya for Maasai women in order they can move away from poverty.
Witnessing first hand, the benefits of Rotary involvement and investment in assisting individuals and communities better their existence has given me the resolve to continue contributing to Rotary in whatever way I can for the benefit of society. As you travel through Tanzania and Kenya you frequently pass 2.4m X 1.2m placards detailing Rotary's involvement in various projects, makes you proud to be a Rotarian. 
Presidents Roll of Honour
| | |
| --- | --- |
| 1974/75 | Cyril Pugh |
| 1975/76 | Warwick Spicer |
| 1976/77 | Hil Kearney |
| 1977/78 | Bill Anderson |
| 1978/79 | Jim Elliot |
| 1979/80 | Bill Chudleigh |
| 1980/81 | Robin Mundy |
| 1981/82 | Allan Hunter |
| 1982/83 | Ed Harding |
| 1983/84 | Gerald Maister |
| 1984/85 | Robin Smith |
| 1985/86 | Chris Turland |
| 1986/87 | Barry Sullivan |
| 1987/88 | Wayne Carlisle |
| 1988/89 | Graeme Irvine |
| 1989/90 | John Taylor |
| | |
| --- | --- |
| 1990/91 | Ian Murray |
| 1991/92 | Ian Calvert |
| 1992/93 | Ron Macintyre |
| 1993/94 | Graeme Robinson |
| 1994/95 | Ken Matches |
| 1995/96 | Keith de Dulin |
| 1996/97 | Craig Prentice |
| 1997/98 | Malcolm Park |
| 1998/99 | Bill Fallen |
| 1999/00 | Noel Casey |
| 2000/01 | Paul Frost |
| 2001/02 | Richard Green |
| 2002/03 | John Nichols |
| 2003/04 | John Hibbins |
| 2004/05 | Keith Walker |
| 2005/06 | Don Hayes |
2006/07

Shirley Keith

2008/09

Lindsay Crossen

2007/08

Alastair Coleman

2009/10

Eoin Keith

2010/11

Keith De Dulin

2011/12

Kate Russell




John Walsh




2012/13

John Walsh

2013/14

Neale MacPherson

2014/15

Peter Lowe

2015/16

David Conroy

2016/17

Liz Shackleton

2017/18

Graeme Tapp

2018/19

Garry Hampton

2019/20

David Conroy

2020/21

Matt Ellery