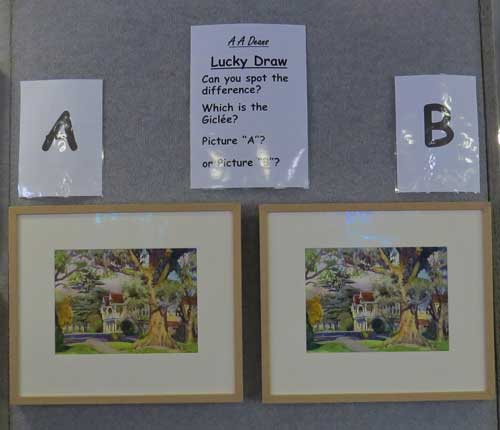 A A Deans watercolour Giclee Print Competitio
Visitors visiting the House of Travel Rotary ARTarama 2020 had the the chance to determine which of the two works on display is either the original or the high quality giclee print.
After recording your details each entrant was require to nominate p "A" or "B" as to artwork is the giclee.
The lucky draw (from the correct box) was conducted at the end of ARTarama 2020.
The prize will be an unframed giclee print donated by the A A Deans Art Trust.
And the winner was Craig Hayles.
There were 203 entries in total of which 103 were correct. 
The picture on the left "A" was the Giclee was the correct answer.
Congratulations Craig and thanks to the AA Dean Art Trust for donating the print.

Austen Deans Collection
We wish to acknowledge the support of the AA Deans Trust who kindly loaned works of art from the collection of the Late Austen Deans.
In addition, a selection of works from the trust collection was made available for sale, including works by Austen Deans.
Alister Austen Deans, always known as Austen, followed his two passions – painting and the great outdoors – throughout his life, with a career as professional artist that spanned more than 60 years.
Austen was twice the first place recipient (and once second) of the Kelleher Art Award.
Son, Paul Deans has followed his father's passion and is a Christchurch based sculptor and portrait artist.