Rotary's Highest Honour Awarded
The highest award presented by Rotary world-wide is named after Rotary's founder Paul Harris who started the organisation more than 100 years ago.
Recipients of a Paul Harris Fellow are special people who have made a significant contribution in their community through extensive and very generous donations and sharing of their time and expertise over many years.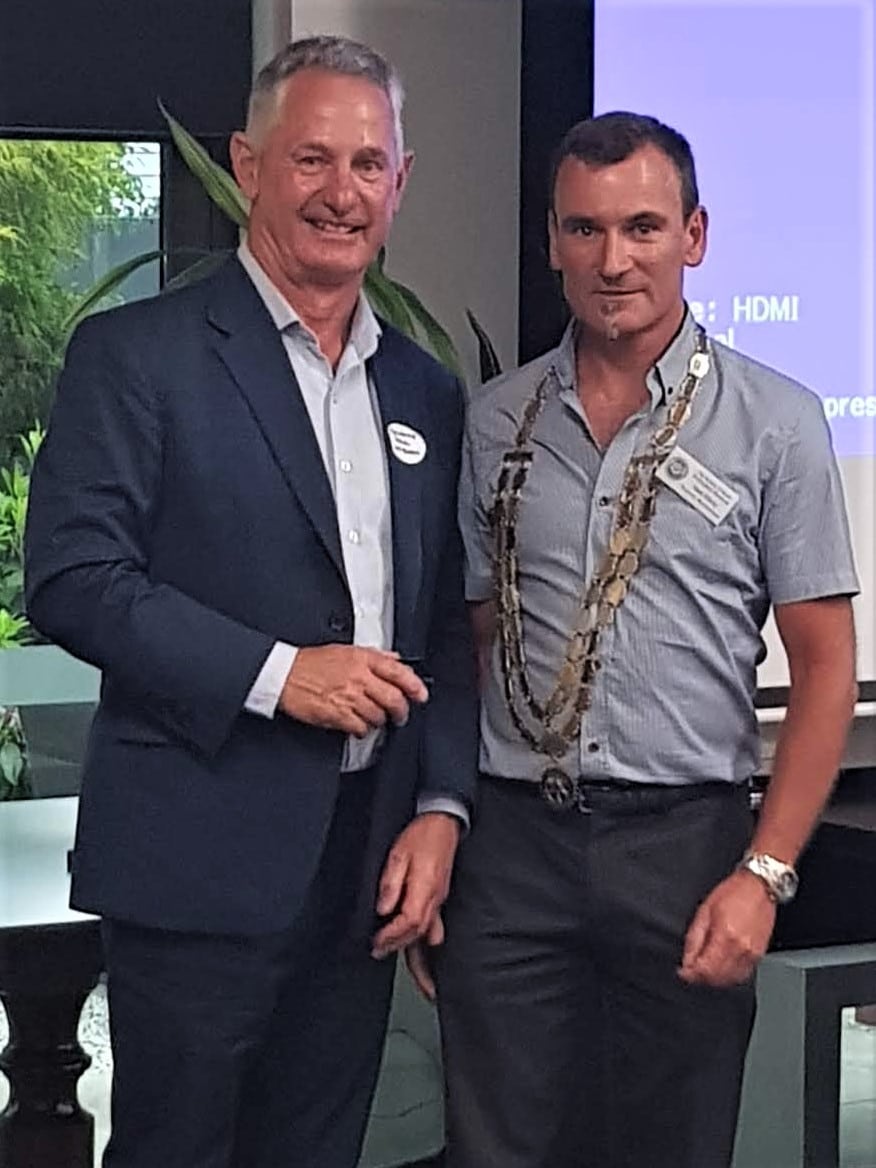 It was with great pleasure that Bishopdale-Burnside's President Matt Ellery presented Paul and Julie with their Paul Harris Fellowship pins.
Last Monday night a husband and wife were both honoured for the considerable time and effort they have made in establishing and continuing to administer a charitable trust that brings major help to young people and young families when they need it most.
Paul and Julie McEwan established the Neo Natal Trust in 1992 and Paul has chaired the organisation since its inception.
Fundraising is an ongoing challenge for the Trust so one of the key fundraising and awareness events is the annual Ladies Luncheon for 250 people, held at Riccarton Raceway for the past fifteen year for which Julie plays a major part in organising. For some time the event has been a sell out with a waiting list to attend.
Another very significant undertaking by Paul was the setting up of the first Human Milk Bank in 2014.
As a New Zealand under 23's cricket representative Paul also played 103 matches for Canterbury and 4 for New Zealand back in the day so it is hardly a surprise that he has played a significant part in the development of The Willows Cricket Club, established in 1994 with the express purpose of encouraging the development of youth cricket throughout secondary schools particularly here in the South Island but also including some in the lower North Island. Paul has also been President of Canterbury Cricket.
Julie has played a significant part in several of the tours to the subcontinent acting as an assistant to Paul and generally being the Mother Hubbard of the tour group consisting of the 13 boys.
She is also a volunteer for Cancer Society driving patients to hospital for chemo and has volunteered with Look Good Feel Good, taking patients to get their new wigs, hats, make up and generally making them look and feel better. Ronald McDonald House is another recipient of her help plus a volunteer for many years for Special Olympics.
Members
You can view more blog items
by logging in